Susan Joy Rennison's
Website

Space Weather & Energy Driven Evolutionary Change


The Celestial Deluge &
Arrival of Cosmic Fire

Mind to Mind by Betty Shine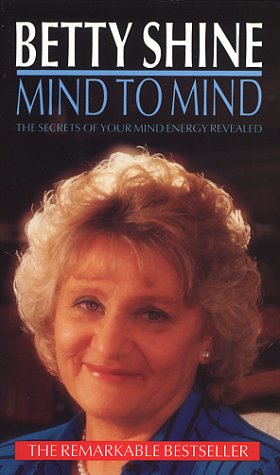 Now that I have decided that I have healing abilities, I decided to re-read my old books on the subject. I went through my bookshelves and found an appalling lack of interest signified by only a handful of authors who specify themselves as being healers and a few of those had not even made it unto the 'My Bookshelf' listing on my website.
However, 'Mind To Mind' by Betty Shine (click on photo for link to Amazon.co.uk), is an easy read and I got so much more from reading it a second time, I decided to do my first website book review.
Betty Shine is an internationally renowned Healer/Medium, which is very clear once you start to read the book. It details how she got started and major events in her life with her philosophy and belief in 'mind energy'. If you are in any way scared of things that go bump in the night then there are a few details that might put you off this book, but if you are in anyway curious then this book is a fascinating read. Her accounts of being inundated with spirits who wanted to work with her is interesting especially if you are a Christian. The words in the Bible 'we are surrounded by a great cloud of witnesses' have always intrigued me. I was particularly interested in the discussion of the human energy anatomy, at times it read like a Barbara Brennan book. The following topics are mentioned:
chakras
auras
energy meridians (lines of acupuncture)
power of positive thought
the effect of negative attitude on health
kirlian photography
prayer
clairvoyant diagnosis (finding medical problems very early on)
psychic surgery
healing by colours
hypnosis
distance healing and absent healing
telepathy with animals
This book really surprised me and I was blown away with her philosophy because it fits in with some of the more progressive scientific thought I have been reading recently. As an EMF Balancing Technique Practitioner I was also thrilled to obtain independent validation of the electro-magnetic rings that encircle the head, because very few people can actually see them. I was also enthralled with her section on 'expanding your mind', and her comments on meditation I also found very helpful. What I like is that Betty Shine is not particularly fashionable in the New Age world and that makes what she has to say so much more interesting..........
Believe it or not I don't believe everything I read, so if someone gives me an explanation to something I have experienced, I tend to sit up and listen to what else they have to say. I would not mind meeting this woman, as long as she promised it would only be us two in the room!
Susan Joy Rennison quotes:
"Space Weather is now a fact of life."
"We are all astronauts now!"
Tuning The Diamonds,
September 2006
"We must spiritually evolve as part of the new terms & conditions for living on Earth."
Joyfire Tour – Evolutionary Change, December 2006
"Space Weather will force many changes in how we do business on this planet."
News of the Imbalance,
April 2007
---
NASA Press Release:
"Earth and space are about to come into contact in a way that's new to human history."
"We're on the threshold of a new era in which space weather can be as influential in our daily lives as ordinary terrestrial weather."
As the Sun Awakens, NASA Keeps a Wary Eye on Space Weather
NASA News, 4th June 2010
---
White House Executive Order:
"Space weather has the potential to simultaneously affect and disrupt health and safety across entire continents. Successfully preparing for space weather events is an all-of-nation endeavor that requires partnerships across governments, emergency managers, academia, the media, the insurance industry, non-profits, and the private sector."
Executive Order –– Coordinating Efforts to Prepare the Nation for Space Weather Events
The White House, 13th October 2016
---
Website Statistics
Between 1st May 2008 & 31st December 2012, there have been:

Hits: 32,890,564
Page views: 1,735,407
Visits: 414,635

These statistics are provided by Webalizer Version 2.01.

Basic info on website statistics here